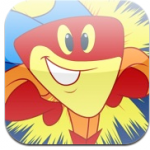 Application: Grammaropolis Word Sort

What it is: Grammaropolis Word Sort uses the characters from one of my favorite grammar websites, Grammaropolis, and makes learning the basic parts of speech fun. Students "grab" a word as it flies across the screen and drag it to the correct part of speech container. Grammaropolis personifies each part of speech making learning grammar relatable and fun instead of reducing it to a tedious list of rules to memorize. Students learn about the parts of speech by "meeting" a Grammaropolis character. There are three levels of game play. In level one, students play with nouns, adjectives, and linking verbs. In level two, students play with pronouns, prepositions, and interjections. In level three, students play with adverbs, conjunctions, and action verbs. Within the game levels there are also three levels of difficulty for play. Grammar Champ has one word on the screen to sort at a time. Grammar Fiend has two words on the screen to sort at a time. Grammar master has four words on the screen at a time. The game includes in-game character review and a high-score page.
How Grammaropolis Word Sort can enrich learning: Grammaropolis Word sort is a fun way for students to practice their recognition of the parts of speech. I love that this app goes beyond just drill and introduces students to the parts of speech by personifying them as characters. Students learn the parts of speech not because they have memorized a list of rules, but because they recognize the character traits of the Grammaropolis characters. The game is great for visual learners who will associate the part of speech with a visual character representation. The game is wonderful for the elementary classroom and has enough level adjustment to meet the developmental needs of all students, adding a level of difficulty as they become proficient in their parts of speech recognition.
Devices: Compatible with iPhone, iPod touch, and iPad. Requires iOS 3.1.3 or later
Price: $1.99 (iTunes Link)