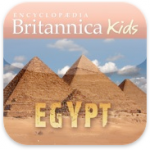 Application: Britannica Kids

What it is: The Britannica Kids Ancient Egypt app let's students explore hieroglyphics, mummification, the Pyramids, Tutankhamen, Cleopatra, the Ancient Egyptian world, dynasties of Egypt, the River Nile, gods and the afterlife, every day life, and 14 Egyptian Gods, and other Egyptian topics as they play a variety of games.  Games include memory (matching type games), jigsaw puzzles, and the magic square.  Students can zoom into an Egyptian map to see an up-close and personal view of the pyramids, "brush" off layers to reveal images of ancient Egypt, test knowledge with a quiz feature, and even tweet answers or post to Facebook.
How Britannica Kids Ancient Egypt can enrich learning: Britannica Kids: Ancient Egypt is a fun, informative place to start a study of the Ancient Egyptian culture.  The app offers students great opportunities for exploring culture, life, and landscape of Ancient Egypt.  There are several games built in but each provide students with opportunities to view artifacts from Ancient Egypt, interact with facts about Egypt, and familiarize them with life in Ancient Egypt.
Shipley 5th Grade Student Review:
Overall impression: This app is overall highly rated by us.  Even though there is a ton of information, there are many games but they are not very educational. This app does have the educational value a kid needs, even if the games are a little distracting. After you learn all the information you will be able to take a test on your knowledge.  Many people say this app is very fun. Overall it has a lot of very solid information and make sure you pay attention to it.
Tips and tricks:  The main screen has many different things that you can check out. You use the wheel at the bottom to get around. The icons on the wheel are not always obvious. All the different features suit different people. Make sure that you use all of the app's features because it makes it a lot easier to learn by trying all the features instead of looking at the same old thing. Make sure you have a general idea about Ancient Egypt before you go on the app otherwise it will not make sense. Don't spend all of the time on the puzzles because you don't get that much information. Overall this is a very good app and we would recommend this for when you're studying ancient Egypt.
Rating scale: 1= low  5= Highest
Overall satisfaction 4.5
Graphics   4.1
Easiness to learn   4.7
Educational value   4.4
Describe educational value: learn new things and practice what you already know
Fun   3.6
Overall performance  4.4
Devices: Compatible with iPhone, iPod touch, and iPad. Requires iOS 3.0  or later
Price: $4.99 (iTunes Link)