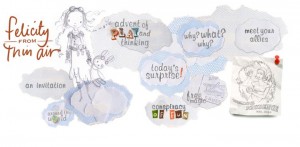 Application/website: Send Felicity

What it is: Everyone could use a little more magic and enchantment in their lives and Send Felicity brings students (and teachers/families) just that.  Take a look at the video below to watch some of that magic unfold.

Felicity is six and three-quarters years old.  She loves imagination, making things, and magic.  She comes from a magical place called Thin Air. Felicity invites children everywhere to join her in play.  Every day there is a new special surprise waiting for children.  Each surprise invites students to engage in creativity, play, imagination, and learning.  It is an enchanting-ongoing place that involves technology, imagination, and the real world in new ways.  The artists, geeks, and minds behind Felicity are deeply committed to keeping the childhood experience one of magic, imagination, and exploration.  They bring these values to life beautifully as an application, website, and social experience.  What I love about the Send Felicity experience is the storyline behind Felicity, and the invitation to be part of something that is engaging, meaningful, and magical.  The combination of the three makes Send Felicity a unique learning and interactive experience.  So, how does Send Felicity work?  Children can visit the application or website to learn of a new craft (adventure) to take with Felicity.  Felicity takes every day objects like paper plates and makes them magical.  Children follow the adventures and create and pretend along with Felicity.  Children can take pictures of their finished masterpieces and upload them to the Send Felicity website, sharing the creative experience with others.  The application is truly unique and takes what is real and adds a bit of magic (as you saw in the video).
How Send Felicity can enrich learning: Play is an important part of learning. It provides the building blocks for self-regulation and executive functions, promotes creativity, imagination, and divergent thinking.  Unfortunately play is often stripped from the classroom.  Send Felicity weaves together a wonderful tapestry of play and learning in the form of an application, a website, and a social movement.  Felicity uses open-ended play and experimentation that leads to an attitude of fun learning.  Felicity helps your students turn ordinary objects into creative works of magic.  Use Felicity's daily dose of magic to spark your students imaginations.  Set aside some time for your students to do a little creative play.  The benefits that play has on the rest of the learning day will be well worth the time invested.   Go beyond the crafts and invite your students to write stories, poems, or secret letters in connection with the imaginative play of the day.   Activities for Felicity are open-ended and include art, language arts, literacy, and even math and physics.   Send Felicity marries technology and real life in new fun ways.  The application is just a piece of the bigger picture.  The application takes students physical creation and adds a little magic to it.
Send Felicity is really an app all about engagement of the mind.  As an example, one of my personal favorite Sending Felicity projects Beautiful Oops:
Today we are boldly making mistakes.Today, our children will make a small mess.

Today, we'll set out on an adventure and begin with an "oops" and end up in a place where we can look and wonder. Together, we can do something mistaken and wrong; and audacious and wonderful to surprise everyone.
This project shows children that it is okay to make mistakes, and that, in fact, those mistakes can be turned into something wonderful, new, and meaningful.  Students don't hear often enough that it is okay to make mistakes and that it is indeed an important part of the learning process.  Take a look at what these beautiful oops turn into: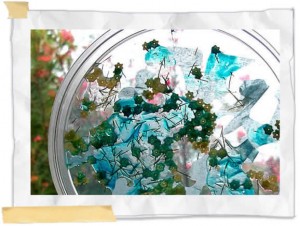 The Send Felicity App has not yet been released to the iTunes store, but don't let that stop you from using Felicity in your classroom right now, the Send Felicity website is full of fun activities, instructions, and even a bit of magic.  You can also check Felicity out on Facebook where she shares creations made by children from around the world!  Send your students home with a wonderful gift this holiday season and point them toward the Send Felicity website. Students will love the opportunities for play and imaginations, parents will love the ideas to keep their kids learning and playing.  Let parents know about Send Felicity along with this article from Geek Mom for a little explanation.
The wonderful people over at Send Felicity are so passionate about creating a world of wonder and imagination for children to play in that they have made the technology that Send Felicity is based on open source.  Interested parents, educators, and developers are invited to sign up to play along with them.
Devices: Compatible with iPhone, iPod touch iOS 3.1.3 or later
Price: Free!