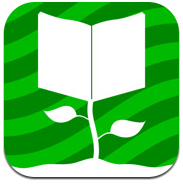 Application: Story Patch
What it is: Story Patch is a digital storytelling tool that kids can use to write stories.  Story Patch lets kids create picture books right on the iPad.  The application comes with more than 800 beautiful illustrations that will bring stories to life.  Kids can customize their own characters, even allowing them to adjust facial expression, body position, skin, hair color, and more.  The characters they create fit seamlessly into any story they want to tell.  The gestures to create a story are very intuitive, taking advantage of touch and drag, two finger rotate, and pinch to make smaller.  Kids can even import pictures from the iPad's photo library to use as a story backdrop.  This means that they can create pictures in another iPad app and use them in their Story Patch story.  The finished result can be saved as a PDF and emailed in one touch.
How Story Patch can enrich learning: Story Patch brings student writing to life, allowing them to create their very own ebooks.  Because Story Patch creations can be saved as a PDF, they can be added to the iBook library.  Students can use Story Patch to tell an original story, to retell a story, or to summarize learning.  Students will love creating such professional quality digital stories!
Devices: iPad  Requires iPhone OS 3.2 or later.
Price: $4.99 (iTunes Link)**