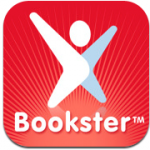 Application: Bookster
What it is: Bookster is a free read-along storytelling application that reads to students, records and plays their voices, and teaches vocabulary. Bookster is what kids ebooks should be; complete with high-quality illustrations, narration for kids by kids, a record mode that records as they read out loud, and an easy to use interface. In record mode, students can read the book with the narration they recorded. In read along mode, words are highlighted as they are read. Students learn word recognition and vocabulary. When a student taps on a word, the individual word is read aloud. Right now there is one story in the Bookster app (What If…) but Imagine Learning notes that there will be additional stories coming soon.
How Bookster can enrich learning: Bookster is an app created with kids literacy in mind. Students can read along with the narration, flipping pages at their own pace. After listening to the story read to them, students can read the story and record themselves as they go. They can play back the book in record mode listening to their pronunciation, annunciation, voice, and rhythm. Students receive immediate feedback on their fluency. Often times a teacher can point out that students are not pronouncing or annunciating correctly but students have a hard time understanding just what that means. With the Bookster app, they are able to play back their recording and compare what they recorded with the prerecorded narration, hearing the difference for themselves. Students can re-record as many times as they need to get it right. The What if… story that is included in Bookster is delightful and will have students imagining birds with crocodile teeth, a horse with an elephant trunk, and animals that never stop growing. Use the what if statements in the story as a writing prompt for students own stories. Students can record their stories directly in the Bookster app or write them down in another application or in a journal.
Bookster is a really excellent application as it is, and you can't beat the price (free!). I look forward to the additional stories that will be released.
Devices: Compatible with iPhone, iPod touch, and iPad. Requires iOS 3.1 or later
Price: Free (iTunes Link)**