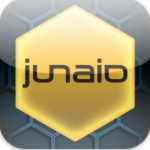 Application: Junaio
What it is: Junaio is an augmented reality browser application for the iPhone, currently the iPhone is the only available device but I suspect that with the addition of the camera in the iPodTouch, the app may soon be available for it as well.  First a definition for those of you unfamiliar with augmented reality.  Wikipedia has this definition for augmented reality (AR): "a term for a live direct or indirect view of a physical real-world environment whose elements are augmented by virtual computer-generated imagery."  If that is a little cumbersome for you, let me give you my definition.  Augmented Reality generally uses a camera to let you overlay virtual data on top of the physical world you are seeing through your camera lens.  The virtual data could be a map, information, multimedia, or even look like a holograph that you can manipulate.  For a really simple explanation you can check out this AR Common Craft Video.  Junaio uses GPS and markers to help the iPhone determine it's location.  When GPS is unavailable, AR markers can be used.  These are square black and white barcodes that store data.  When your camera is pointed at a marker, the data associated with it pops up and is seen as an overlay on top of your physical view.  Junaio features several built-in channels including culture (learn about places through Wikipedia entries), gaming (play scavenger hunt games and find clues), shopping, food, news (read breaking news and history of the local area you are in), nightlife, and travel.  The real highlight of the Junaio app is the ability to create your own channel and publish it to the world.  Adding data is easy, simply click on the "add" button at the bottom of the screen and choose to add text, a picture from your iPhoto library, a current picture, or a model (moving images, avatars, live Twitter feeds/messages).
How Junaio can enrich learning: Equip your students with an iPhone (iPod Touch 4G) and let the learning begin.  Students can use the built-in culture or news channel to learn about the news and history of their state.  This apps potential really explodes when you use it to create your own channels.  Create a channel just for ELL/ESL students that overlays vocabulary on top locations and items in the school or classroom.  Create a virtual scavenger hunt for your students around the school grounds where they must follow directions and decode clues, discovering learning along the way.  Make math hands on by creating a channel where students receive a real world math problem that they must solve by measuring angles, determining perimeter, area, or volume of actual objects in the school.
I recently read an article in the School Library Journal that got my wheels spinning about the ways augmented reality could transform the library experience.  In the article they suggest putting AR markers on a book cover so that when a device is used, a librarian could walk across the book jacket and deliver a quick review of the title.  Markers inside books could cause 2D diagrams or images to come alive as 3D interactive simulations.  Another idea I loved was to create a literary tour using an AR program, which would describe locations that appear in a book.  When you actually travel to that place, the text that took place there could pop up along with additional information or content.  Each of these ideas is amazing in itself but thinking of transforming a school library, here are the ideas I came up with:
Connecting your card catalog with augmented reality so that students could search for a book or topic from their mobile device and instantly get a layer that directs them to books that may be of interest.
Connecting a tool like Shelfari, where students keep a virtual bookshelf and rate the books they have read ,with augmented reality.  Students could instantly ask for books that are recommended based on their ratings of other books and recommendations could pop up in a layer directing students to those recommendations.
Turning booktrailers (professionally created or student created) into an augmented reality layer.  Students could use an AR marker on the book cover and instantly watch a booktrailer about the book.
A this day in history layer where a fact pops up each day describing an event in history, the layer could then direct students to additional information, include a video or challenge of some kind.
Connect AR to a search engine so that when students are researching a topic, book recommendations pop up in a layer with directions on where to find them.
Our library is often a showcase of student work, what if each diorama, piece of artwork, or project had an AR marker on it?  Students could record themselves (either audio or video) describing their work.  This could be attached to an AR marker so that as students viewed other's work, they could get an introduction to it by the creator. (This would be awesome for parent teacher conference time as well!)
AR Markers next to the computers could remind students of important Internet safety rules, the school acceptable use policy, and what to do if they have been bullied.
The school librarian could have a special selection of books each month that contain an AR marker linked to the librarian reading the story.
Does your school have author visits or use the Skype an Author network?  If so record the author (audio or video) and connect it to AR markers on their books.
Label the areas of the library using AR so that ESL and ELL students can get a vocabulary lesson as they walk through the library.
Devices: iPhone (3GS or 4), possibly iPod Touch 4
Price: Free (iTunes Link)**