Application: Go Sky Watch Planetarium
What it is: Go Sky Watch Planetarium is an incredible application that puts t night sky in the hands of your students.  This planetarium displays the night sky with the correct orientation of wherever students are.  This means as your students move the iPad around them, the application adjusts to show them what is in the night sky above them in real-time.  This application couldn't be easier to use, just open it up, point it at the sky and start exploring.  The application uses the built-in accelerometer and compass navigation to make the sky come to life.  The graphics in this application are incredible, your students will feel like they are actually looking up at the night sky and discovering stars, constellations, planets, and the Milky Way galaxy.   In addition to discovering the universe by moving the iPad around, students can also do a search by planet, constellation, deep sky object, star, or star light date.  An information window can be pulled up that displays information about the star, planet, constellation, or deep sky object that is being viewed.
The preferences offer an added layer of features to Go Sky Watch where students can change the display to night mode (this give everything a red tint), display star color, the Milky Way Galaxy, object images, and day light.  Students can add a horizontal grid overlay, celestial grid, ecliptic, or horizon lines.  Constellations lines, boundaries, and images can be turned on or off as well.  Students can even decide whether to show Pluto as a planet (since I'm old-school, I say yes!).
How Go Sky Watch Planetarium can enrich learning: Go Sky Watch Planetarium will capture your student's attention and have them exploring the depths of space first hand.  When I hand a child an iPad, this is the application that they are continually drawn to.   Students can be the guides of their own tour through space as they tilt and twist the iPad.  Send your students on a scavenger hunt to find different planets, stars, and constellations that they are studying.  Use the application to help students "map" the night sky on the classroom ceiling.  Students can create constellation cutouts, label paper stars, or create paper versions of the planets to map the sky above their classroom.  Travel through space as a class and make "stops" along the way to learn more about stars, galaxies, or planets that you encounter along the way.  If your students have access to video, this is a great time for them to make a connection and learn more about what they are seeing.   This application brings space to your classroom in a way never before possible.
If your policy allows students to do so, send the iPad home with students so that they can take their family on a tour of the night sky when the sun goes down.  They will love being the "experts" as they teach their families about the night sky.  This is a great way to involve families in learning together!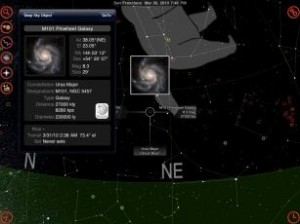 Devices: iPad, iPhone, iPod Touch
Price: Free! (iTunes Link)**
** The iPad education version of Go Sky Watch Planetarium is Free, the iPhone/iPod Touch version is $5.99.